Design
Armed with the idea of the small in volume, light in weight and novel in pattern, we designed and developed the XLHJ series gear operators which are wildly applied in the area of valve automation control. These kinds of products were specially designed used for butterfly valve, ball valve and plug valve together with K-Torc series pneumatic actuator.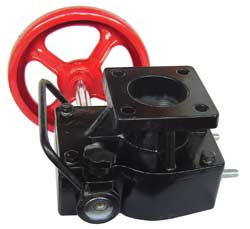 Feature
1, Easy connection: There are two keyway apart 90°in the inner hole of worm gear so as to be convenient for customer to choose relative position between gear operator and valve.
2, Easy operating: Pull out the position pin and rotate off center device with 180°to realize pneumatic drive by positioning pin acted or to realize manual drive in the opposite way.
3, Dustproof and waterproof : The gear operator is filled with special lubricant before leaving the factory. It is solid sealed with valve after installation possessing dustproof and waterproof function with protecting grade IP65.
4, Many Output torques: It consists of a series of products, so output torque matches with all kinds of pneumatic devices and valves.
Operating principle
1, Assembling procedures: The bottom of gear operator should be connected with valve, bracket surface connected with cylinder (actuator), valve stem go through the inner hole of worm gear and the square on the end of stem matches with square hole of cylinder (actuator).
2, Operating procedures: The cylinder (actuator) drives valve stem and worm gear rotating together when pneumatic drive and worm shaft meshes with worm gear to drive valve stem rotating along with piston of cylinder (actuator) moving when manual drive. When pneumatic drive, pull out the pneumatic drive by worm gear rotating following with pneumatic valve stem. Just make the worm shaft mesh to realize manual drive.

Material and Parts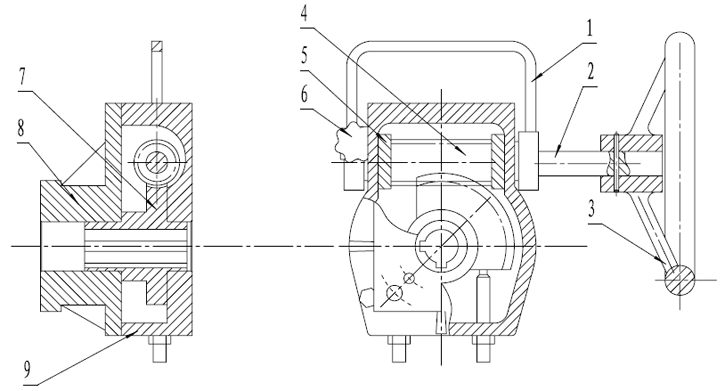 | | | | | |
| --- | --- | --- | --- | --- |
| | Part | Qty | Material | Optional material |
| 1 | Handle | 1 | Carbon steel | |
| 2 | Worm shaft | 1 | 45 GB699-88 | |
| 3 | Hand wheel | 1 | HT200 GB9439-88 | WCB GB12229-88 |
| 4 | Worm | 1 | 45 GB699-88 | |
| 5 | Off-center sleeve sub-assembly | 1 | Carbon steel | |
| 6 | Positioning screw | 1 | Carbon steel | |
| 7 | Worm gear | 1 | QT500-7 GB1348-88 | |
| 8 | Bracket cap | 1 | HT200 GB9439-88 | WCB GB12229-88 |
| 9 | Body | 1 | HT200 GB9439-88 | WCB GB12229-88 |

Dimension


Model

d

b

t

D1

F

D2

G

A

H

E

D3

I

D4

J

K

L

B

C

D

ALXL26:1

22

6

25.4

70

M8

70

99

50.5

70

Ø 9

Ø200

155

160

145

110

ALXL38:1

26

8

29.3

70

M8

100

117

65

70

Ø9

Ø200

195

195

175

140

38

10

41.3

102

M10

110

102

Ø12

ALXL54:1

38

10

41.3

125

M12

130

118

85

125

Ø14

Ø300

205

235

215

180

48

14

51.8

140

M16

140

Ø18

ALXL80:1

48

14

51.8

140

M16

156

148

124

140

Ø18

Ø400

245

320

298

250

60

18

64.4

165

M20

165

Ø22

ALXL78:1

60

18

64.4

165

M20

220

150

142

165

Ø22

Ø600

265

360

340

285

80

18

84.4

ALXL98:1

80

18

84.4

165

M20

230

195

229

165

Ø22

Ø800

410

550

530

460

ALXL100:1

100

20

105.3

254

M16

300

195

258

254

Ø18

Ø800

430

605

585

520

ALXL118:1
I

120

32

129.3

356

M30

Ø445

250

391

356

Ø32

Ø1000

550

900

870

800

ALXL118:1
II

180

45

196

483

M36

Ø600

275

390

483

Ø39

Ø600

600

1050

900

850

Specification and output torque
| | | | | | |
| --- | --- | --- | --- | --- | --- |
| No | Model | Gear Ratio | Input Torque(Nm) | Output Torque(Nm) | Weight(Kg) |
| 1 | ALXL26 | 26:01:00 | 70 | 300 | 7.3 |
| 2 | ALXL38 | 38:01:00 | 60 | 550 | 11.8 |
| 3 | ALXL54 | 54:01:00 | 120 | 1200 | 17.3 |
| 4 | ALXL80 | 80:01:00 | 140 | 2000 | 35 |
| 5 | ALXL78 | 78:01:00 | 200 | 3600 | 48.2 |
| 6 | ALXL98 | 98:01:00 | 300 | 9000 | 156 |
| 7 | ALXL100 | 100:01:00 | 400 | 13000 | 190 |
| 8 | ALXL118 | 118:01:00 | 900 | 22100 | 540 |